Episodes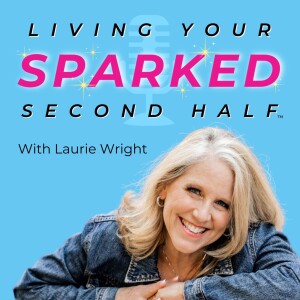 Tuesday Mar 21, 2023
Tuesday Mar 21, 2023
EP312: Today's guest is Tiphany Kane, who I refer to as a Podcasting Dynamo, because she has not just one but THREE podcasts! I asked her to be on the show because she's a great role model of living a sparked second half, as well as a fantastic example of how you can find your way to a more passionate existence in spite of the hardships or lack of support you may have.
Tiphany has certainly made up for lost time, creating her own company, KaSa Media Productions which allows her to bring her passion for the art of the spoken word to people who need help finding their voice.
She's a coach, public speaker, podcast producer, videography director and is the Executive Director of Sonic Bloom Podcast Awards. Tiphany also hosts the Radical Audacity in Love & Life, Diet Riot Sweat Repeat, and Mastering the Podcaster Mindset podcasts. 
"You are just too passionate." were the words she heard from a supervisor explaining why she was not selected for a promotion she was qualified for. Although these words stung, they were the words she needed to hear to make the necessary career change that would take her down a much more purpose-filled path.
At age 49 she says: "Life is just beginning for me! I am lit up with creativity, options, ideas, and possibility." And she wants you to know if your brightness is being dulled, know that it is never too late to find your passion and purpose.
If you enjoyed this episode, please leave a review and subscribe to (or follow) the podcast (if you haven't already) so you don't miss any new episodes.
Feel free to connect with Tiphany at the following sites (or tune into one of her podcasts!):
Website: https://kasamediapro.com/
Instagram: https://www.instagram.com/tiphanykane/
Facebook: https://www.facebook.com/tiphany.k/
You can sign up for my newsletter on my website, or if you'd like to connect with me, you can email me or send a message using any of the sites below:

Website: notyouraveragegrandma.com     
Facebook: facebook.com/LaurieColvinWright     
Instagram: instagram.com/not_your_average_grandma     
Youtube: youtube.com/c/NotYourAverageGrandma           
Note: Not Your Average Grandma is a participant in the Amazon Services LLC Associates Program, an affiliate advertising program designed to provide a means for sites to earn advertising fees by advertising and linking to Amazon.com.