Episodes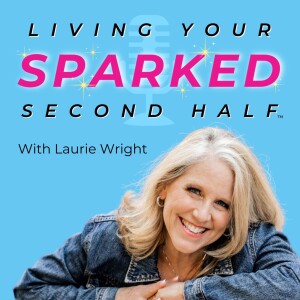 Tuesday Feb 28, 2023
Tuesday Feb 28, 2023
EP306: Tanner Wallace, an online trauma recovery coach, shares how she leads people to life-changing transformations by uncovering their internal family systems In this week's episode of Living Your Sparked Second Half.
Tanner specializes in unlocking her clients' hidden-in-plain-sight gifts that are obscured by all the wounding and disappointment. She also hosts a Relational Healing Podcast "HELD by Tanner" and is the creator of the Relational Healing Lab.
In this episode, Tanner talks about:
What accelerated her professional move from professor to trauma recovery  coach and the deeply transformational work she now does and why she chose to develop this area of expertise.

What Complex Post-Traumatic Stress Disorder (CPTSD) means. 

The different types of family structures, how the dynamics within them play a part in the development of trauma, and how these dynamics continue into adulthood.

The tools she use and how she is using it for her transformative work
A great aspect of Tanner's work is identifying symptoms & mindset issues as related to childhood trauma. She believes that trauma healing is one of the most valuable investments one can make in their life and this work involves parent education, healing support, and accountability.
She wants people to understand that it is never too late to heal; and that massive life changes can happen even with a lot of things "fixed" in your life.
To learn more about Tanner and her work,  you can go to:

Facebook: https://www.facebook.com/heldbytanner 
Instagram: https://www.instagram.com/heldbytanner/ 
Podcast: https://podcasts.apple.com/us/podcast/held-by-tanner/id1515546096 
If you'd like to connect or reach out to ME, you can find me at:

Email: lauriewright@notyouraveragegrandma.com    
Website: www.notyouraveragegrandma.com           
Facebook: www.facebook.com/LaurieColvinWright           
Instagram: www.instagram.com/not_your_average_grandma    
Youtube: www.youtube.com/c/NotYourAverageGrandma           
Note: Not Your Average Grandma is a participant in the Amazon Services LLC Associates Program, an affiliate advertising program designed to provide a means for sites to earn advertising fees by advertising and linking to Amazon.com.