Episodes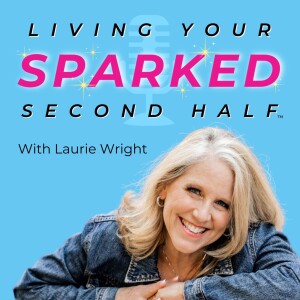 Tuesday Feb 21, 2023
Tuesday Feb 21, 2023
EP304: In this week's episode of the "Living Your Sparked Second Half" podcast, Laurie interviews Kira Sutherland, an Australian Naturopath, Nutritionist and Sports Nutritionist who has more than 28 years in clinical practice.
Her focus on performance nutrition led her to be the first Naturopath in Australia to undertake the International Olympic Committees diploma in sports nutrition. She was also the 2019 winner of the BioCeuticals Integrative Medicine Award for Excellence in practice (Nutrition/Dietetics).
In this episode, Kira talks about:
How she became a Naturopath, ultimately venturing into sports nutrition and combining the practices

The difference between mind and spirit and how they intertwine with our overall health

Rcommended supplements for women who are experiencing perimenopause and menopause symptoms

 Her views about Intermittent fasting and other types of food-limiting strategies.
Kira divides her time between clinical practice, lecturing at the undergraduate level, and mentoring practitioners of complementary medicine in the application of holistic sports nutrition. In her free time, she competes in endurance sports and skis with her family as much as possible.
She wants to inspire people to tap into the simple things to support their health and find the power that comes from moving into this wisdom phase of life.
To learn more about Kira and her work,  you can go to:

​​Website: http://www.kirasutherland.com.au 
Facebook: https://www.facebook.com/Uberhealth 
Instagram: https://www.instagram.com/uberhealth/ 
Linkedin: https://www.linkedin.com/in/kira-sutherland/ 
If you'd like to connect or reach out to ME, you can find me at:

Email: lauriewright@notyouraveragegrandma.com   
Website: www.notyouraveragegrandma.com          
Facebook: www.facebook.com/LaurieColvinWright          
Instagram: www.instagram.com/not_your_average_grandma   
Youtube: www.youtube.com/c/NotYourAverageGrandma 
Note: Not Your Average Grandma is a participant in the Amazon Services LLC Associates Program, an affiliate advertising program designed to provide a means for sites to earn advertising fees by advertising and linking to Amazon.com.