Episodes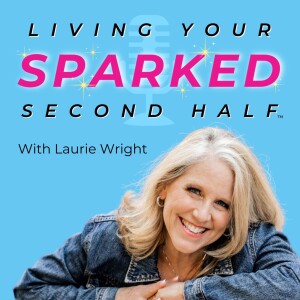 Monday Oct 12, 2020
Monday Oct 12, 2020
EP62: After a 30-year career in telecommunications, where she authored magazine articles, white papers, and technical assessment reports, in this week's episode, my guest Heidi Herman turned to fiction writing full-time, as inspired by her mother's example. She likes to call herself a second-generation life adventurer, a philosophy she learned from her exuberant Icelandic mother. Whether it's learning to fly an airplane, paragliding in Iceland, or attempting to create recipes to make vegetables tasty, Heidi believes every experience in life is to be savored.
Listen as she shared her story on how she jumped into early retirement to pursue her passion in writing fiction. Not only that, she also opened up about the impact of her father's cancer diagnosis; stage three esophageal cancer at the age of 88. He beat the odds and overcame it, which altered Heidi's thinking to balance more 'responsible living' with 'enjoyable living' and making the best out of your life.

Her work as an author was purely inspired by her mother, we also talked about her latest book "On With The Butter: Spread More Living Onto Everyday Life" which was inspired when Heidi worked to complete her mother's final work, "Never Too Late." She was 94 years old and had completed a year of new experiences to prove a person is never too old to enjoy life.
Heidi aims to inspire YOU in discovering to be open to positive influence, to embrace more activity in life, and enjoy new experiences.
"Áfram með smjörið is an Icelandic expression that means to keep moving, keep going, or get the job done. That applies so well to life and it's a fun mantra to stay connected. So let's all get going - On With The Butter!" - Heidi Herman
To see Heidi's work and if you want to connect with her, you can reach her through:
Website: www.heidihermanauthor.com
Instagram: www.instagram.com/heidihermanauthor
Facebook: www.facebook.com/heidihermanauthor
If you'd like to connect or reach out to ME, you can find me at:
Website: https://www.notyouraveragegrandma.com/ 
Facebook: https://www.facebook.com/LaurieColvinWright/ 
Instagram: https://www.instagram.com/not_your_average_grandma/  
Youtube: www.youtube.com/c/NotYourAverageGrandma